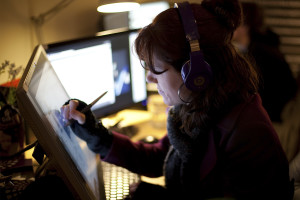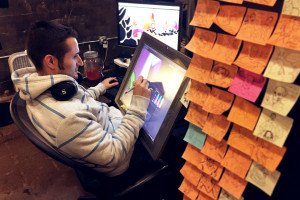 2D Art Team
The SuperGenius 2D Art Team handles the widest range of styles of any team here in the studio. Since mobile games have become such a staple in the game industry, SuperGenius has been hard at work helping developers of all sizes such as Disney, Magic Pixel, WGT, SuperVillain, Backbeat, and countless others build their mobile games from the ground up by providing everything from Art Direction to assets, characters, environments, UI, VFX, animation, icons, branding and everything else needed to complete a mobile game in its entirety. We help developers whose goals are to produce games that are unique, inspiring, fun, and more than just a marketing piece. If the developer is excited about their game, then it's not hard for us to jump on board with them. Excitement is contagious.
While our 2D Team has spent many years on mobile titles, they first became known for their work in console and PC games. They are still regularly called on to help console and PC developers to either serve as their sole art team, taking care of all art direction from the very beginning concept art and design, or later on in development to help augment their existing teams.
Because there is such a high demand for high quality 2D work in the mobile sector, our 2D Team has been one of the most popular and regularly booked of all our teams. In the last year alone we have fluctuated between 6 full-time 2D Artists to over 25.
UI, UX, and shell design has been a studio standard since we began the studio. Whether we need to create wire frames for the entire game's UI flow, direct and generate themes UI pieces, create icons, design HUDs, from the whimsical and colorful UI of mobile titles or the more involved theme-based UI for AAA titles, we have the talent and the experience to do it all.
The fact that our 2D Team has been helping to produce mobile titles since they began to take over the industry five years ago means we have been through every wave, trend, and advancement that the industry has experienced. We understand how to push the hardware, take advantage of the simplified mechanics, and consistently produce some of the best work in the industry. We have also worked with, and continue to work with some of the best mobile developers and publishers in the business. Each one is different with their own brands, styles, and unique approach to the business. We have learned everything we can from them along the way, adapted to their styles, and we are trusted implicitly to take care of their art and design needs for all future games.
Our 2D Concepts Team loves working equally on both mobile and console/PC titles. They each have their own qualities and sensibilities and we give equal amount of detail and attention to both categories. However not all artists are alike and some tend towards the photo-realistic and high drama of console and AAA titles, while others prefer to the quirkiness and stylized craziness that often comes with mobile titles. We make sure that we pair the right artists up with the right projects. But since we're talking about Console and PC games…
Considering the wide range of developers and game styles we work with on a daily basis, we have a large enough Concepts Team who can handle the demand of both styles fairly easily. However, Console and PC get a lot of attention at the studio and when it comes time to show off our work at the end of the week, they tend to get a lot of applause. Our efforts on console and PC titles is recognized Industry-wide and we can't wait to show you our most recent work with AAA publishers and developers on several unannounced titles currently in development.
2D Illustration and Key Art
You know who doesn't love beautiful illustrations and key art? People who are dead inside. People who hate kittens. People who laughed at the end of Blackfish. That's who. Blackfish was sad. And Illustrations are good.
Let us know how the SuperGenius 2D Art Team can help with your 2D needs on your next game
2016 SuperGenius Industries, LLC