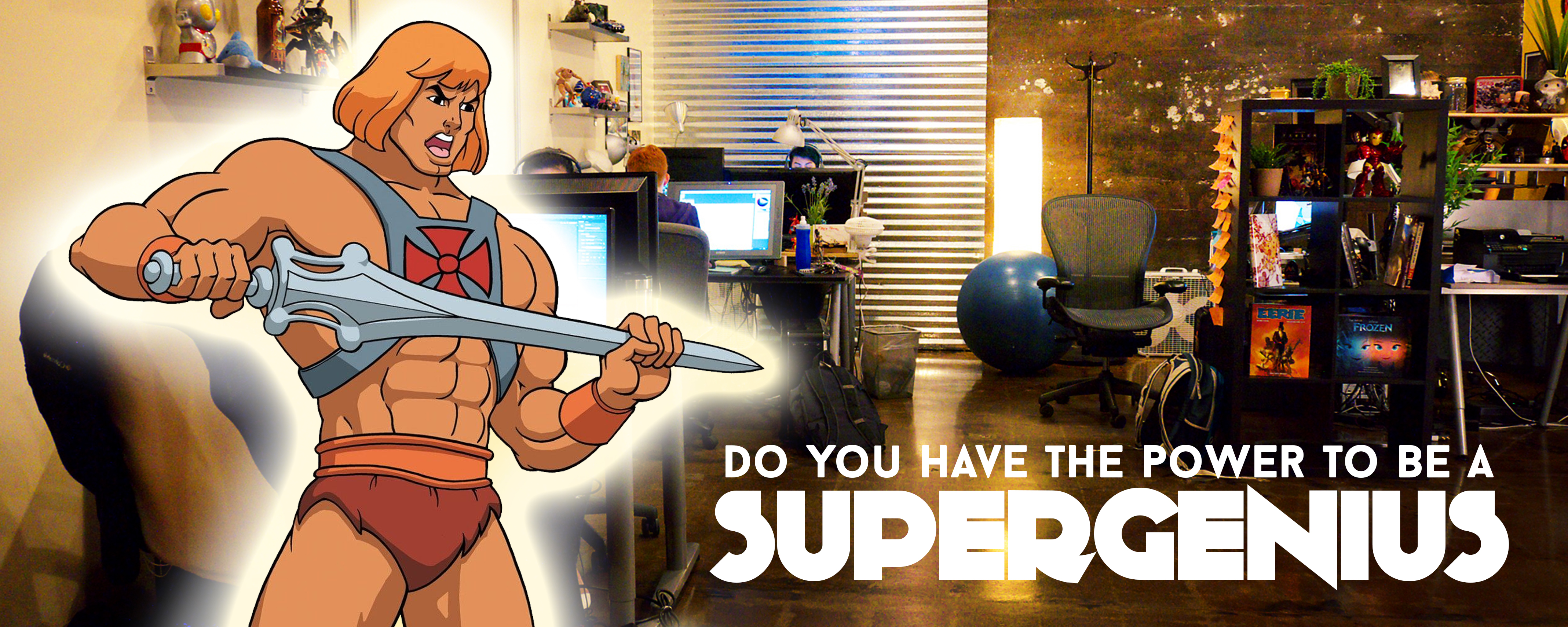 Here's what you need to know about SuperGenius before you think of applying here.
SuperGenius is an institution. It is a place of learning, teaching, and executing your craft. It is a place of teams. Being a good team member is just as important to us as your skills and personal hygiene.
We specialize in the six disciplines of video game production. These are Concepts, Animation, Characters, 3D Environments, VFX, and Programming. Our engines of choice are Unity and Unreal Engine 4. We work with some of the best companies in the game industry – Double Fine, Telltale, Activision, Disney, 2K, and many others who like us, aim to be the best in the world.
We are looking for a UX/UI professional to join this team of ours. We are looking for someone who thinks about user experience the same way game designers think of player mechanics and level setups. We are looking for a craftsperson who believes User Experience to be one of the most important aspects of entertainment software development. In other words, someone who aims to be the best in their field.
Your professional relationship with SuperGenius will begin as a part time, per-project employee. We do not have the business to support a fulltime UI/UX person. We wish we did, but we don't. The work is too intermittent at the moment for a full time team position. Consider this an opportunity to join one of the best teams in games, work alongside some of the most talented people in the industry, and help grow a division into something big and beautiful that you can be proud of. We don't know what the future holds. But we expect it to be bright and we expect to go into it with the right people at our side.
We do realize that if you are a seriously talented UI/UX person there are probably opportunities for you at a larger company in Seattle, San Fransisco, LA, or any number of cities with super sexy companies backed by billions of dollars, onsite chefs, and tour buses with their logos plastered to the side. We are not one of those companies. We are a small 30+ person in Oregon City, just outside of Portland, that has made its way to the top of its field because of talented and dedicated people with a drive to be the best.
This here is an opportunity to stay in Portland, help SuperGenius grow a new division, and work alongside some of the best people you will ever know. Also keep in mind we have benefits (even for part timers), a culture like none-other, and a studio that believes in, and takes care of its team members.
If this sounds interesting, exciting, and right up your alley, please head on over to our Contacts Page and fill out an application form. This form will go to all the right people, including the CEO, and will be read, not filed away. It is the best way to reach us. Promise.
We are looking forward to meeting you.
Cheers,
-SuperGenius