Paul has been making games since the mid 90s and has held nearly every position on a team, minus coding. He has shipped countless titles with some of the best developers in the world and will ship many more before sailing off to Valinor.
When he's not putting his energy into growing teams of the most talented artists, animators, and programmers in the world, you'll find him pouring over the works of Tom Robbins and Joseph Campbell, playing music with his rag-tag band of boys (his children), or wondering where all the stuff goes when it enters a black hole.
Bryan Provencher | VP of Development
As the VP of Development Bryan is responsible for many areas of production including tools, techniques, process, and software used by the teams. Bryan began as an Animation Director when SuperGenius was still a twinkle in the eye of a dreamer and has been with the studio from day one. His work leading the first Telltale projects set the stage for both the long term relationship we have developed with them as well as our standards for what we consider a SuperGenius product. Since then he has led countless teams on countless projects for our studio, landing him a spot as one of the studio's first partners.
Peter has devoted his career to building and scaling companies through strong relationships, cultures and teams.  At SuperGenius, Peter manages day to day business operations.  Peter's easy way with people and keen eye for contracts and negotiations ensure that SuperGenius is perfectly positioned to have its work enjoyed by the widest possible audience.  He brings broad knowledge and an extensive network in the Portland startup, fundraising and policy communities.
When he isn't busy being our math-man about town, he largely spends his time with friends and family (and sneaking in late night marathons of Westworld when his wee ones hit the hay.) He also enjoys spending time brushing up on the latest in  VR/AR, futurism in general, politics, economic development & public policy.  Usually in a festive hat.
Greg Savoia | VP of Production | Executive Producer
Greg was once an artist, a modeler, an animator, a director. A jack of all trades, if you will. It was the early '90s, and that's just how they did the Game Dev back then. He made a bunch of games, and a lot of friends. He learned many valuable, and not-so-valuable, life lessons moving from startup to startup, while working with some of the best-known companies in the game industry.
Years later, as EP and VP of Production, Greg oversees all production in the studio on a macro, yet healthily-detached level making sure that all departments are booked, staffed and working together smoothly. Despite all of the involuntary temple-rubbing, sighing and swearing, Greg genuinely loves his job and is so very proud of our team.
Damon Redmond | Executive Producer
Damon is our Senior Producer, and has been shipping games before many of our team members were born. With contributions to over eighty titles, this makes him the perfect person to ensure our teams are functioning properly. Damon runs the production floor and make sure each individual team is running smoothly on a daily basis and makes sure everything we produce is the highest quality we can achieve.
When he isn't running the production floor, you'll like find him "down at pub", complaining about the unicorn on his passport, and otherwise being quietly British.
Susie MacMillan | Office Manager
Being a Girl Friday, Susie brings administrative and creative skills as Office Manager. Paperwork is her jam, and she makes sure all our company documents are in order and makes sure everyone gets on-boarded and welcomed properly.  Whether you need bookkeeping, invoicing, payroll, various benefits info or transit passes (just to name a few), she has got you covered.  Susie also makes sure the building is in tip top shape and our employees have a comfortable working environment with all the coffee amenities you can ever want.
When she isn't pushing paperwork, you will find her crafting at her desk for the next Genii event she is planning. Summer BBQ's, company anniversary parties, camp outs, and cook-offs are a regular thing here at SG.  If she isn't working on parties, she is plotting the next window display for Halloween or Christmas.
Traci Cook | Senior Producer

When Traci isn't busy rolling her eyes at Adam's terrible puns, she's making sure everyone's jobs are running smoothly. Just never tell her if you thought Disney's "Gargoyles" was bad. Seriously. It's a whole thing.
Julius is our programming/IT/all things tech wizard. You've got questions? He's got answers!
Brandon Leach | 2D Art Director

Brandon is one of our 2D Art Directors, and our resident conspiracy theorist. He's not sure about Roswell, The Kennedy Assassination, or The Illuminati, but he could forward you a few youtube links about it.
Don Fergus | Animator | Technical Artist

Don is an animator and avid DnD enthusiast. If you want a man who can discuss the finer points of DM'ing AND squash and stretch, he's your guy.
Daryn Olson | Technical Director

Daryn is our FX and rigging extraordinaire. We honestly don't know how he does it. I mean, we could know, but we'll just let him be amazing at it.
Kayli Edwards | Animation Director

Kayli will steal your cats with her hands, and your heart with her animation skills. (But their widdle fuzzy faces guys! Come on!)
Justin Rice | Animation Director

Voted most likely to sashay *and* shante, Justin is a sass and a half, and an animator doubly so.
Rob Bekuhrs | Animation Director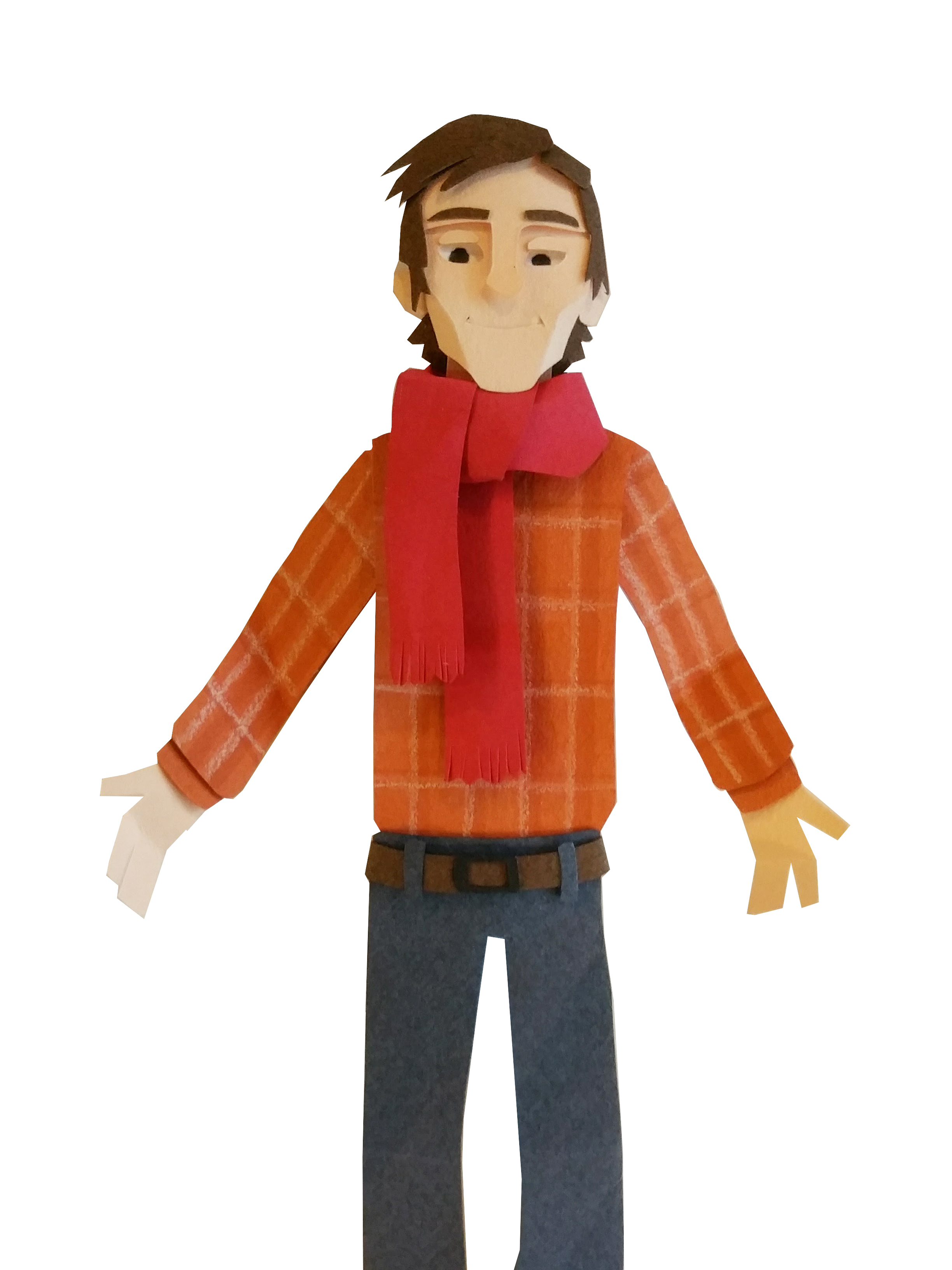 Deemed the best of us by our resident Brit, Rob is not only a skilled animation director, but a delightful human being (and will definitely bring wine to your house party).
Robert Fink |  3D Characters Art  Director

Fink has way too many Amiibos. Like way too many.
Naomi Fish | Animation Director

Naomi is one of our whiz-bang animation directors. But the only one with purple hair and a green thumb. (Seriously, her desk is like a forest.)
Adam Danger Cook | 2D Art Director
If you need some stellar 2D work, or terrible, terrible puns, Adam's your man. ("Terrible? I think you mean "Amazing". -A)
Cody Sauer | 3D Environments Art Director
Cody is a champion environments artist who loves competitive video games (and is ironically terrible at them). We both respect and mock that about him.
Brice Anderson | VFX Director
When not actively in the hills on the hunt for Sasquatch, Brice deals in both animation and VFX. Also his dog Ash is the best. We voted.
Chris Rice | 3D Environments Director
Our resident environment mad scientist. Says "aboot" an awful lot for someone who claims they aren't Canadian, doesn't prefer comics made after the 1980's, and wants you to respect his life choices.