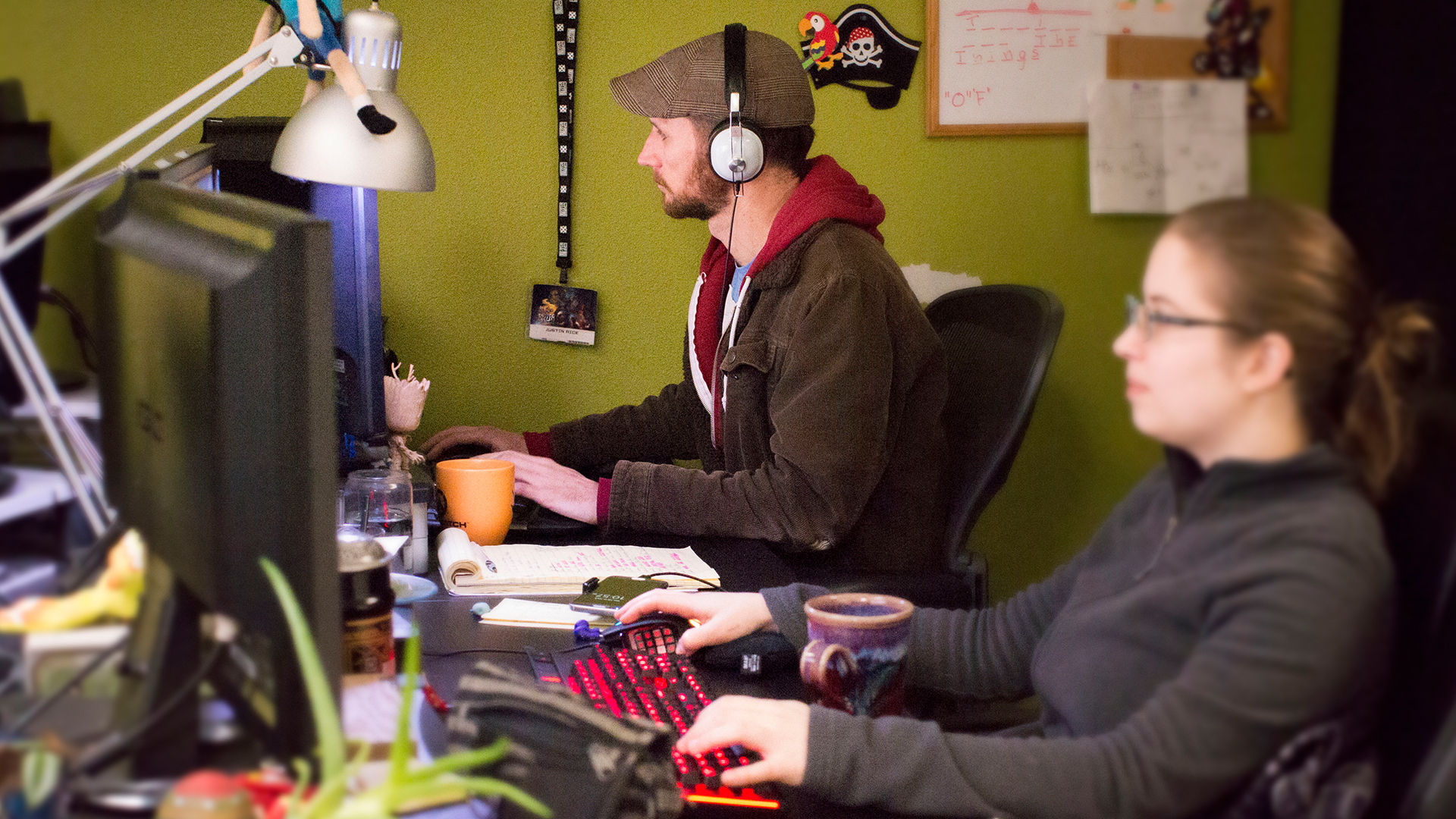 We Work with Legends
We help them make some of the best games in the world.
Open any gaming magazine or website and you will see our work, often on the front page. But you will rarely see our name. We work behind the scenes, alongside legends like Double Fine, Telltale Games, Activision, 2K, Microsoft, and many, many more.
SuperGenius is trusted with some of the biggest and most valuable franchises in the world. Franchises like Star Wars, The Marvel Universe, Skylanders, The Walking Dead, Game of Thrones, Borderlands, Disney, Adventure Time, and countless others you may or may not know of. At least not yet.
The developers we work with know they have a team here at SuperGenius that can ensure their most valuable titles are brought to every major console while maintaining the Triple A quality their fans expect– PS4, XBox One, Wii U, and PC.
Developers also know that our prowess with mobile titles is unparalleled in the game industry. Whether we are bringing a current franchise to mobile or creating new games for the mobile platform, we are the first choice for the best developers in the world.
When it comes to new technologies like Virtual Reality and Augmented Reality, the leaders in these areas turn to SuperGenius. They know we have the experience and the technical prowess to ensure these technologies showcase the best experiences they have to offer.
When it comes to the highest quality work in the industry, the most valuable franchises in pop culture, and the most ubiquitous and advanced devices on the planet, the best developers in the industry turn to SuperGenius. They can't afford not to.
We are an Alternative to Outsourcing
We don't like outsourcing. Not a lot of developers do. In fact, we dislike outsourcing so much we created an entire studio devoted to giving developers an alternative. With SuperGenius, never again will developers have to go through the super painful process known as outsourcing.
We understand all the headaches that come with outsourcing. We also believe most of them can be eradicated with the right approach. SuperGenius was created by developers for developers with the sole intent of making the process easier while supplying the highest quality work in the industry.
SuperGenius is a dream come true for some of the best game developers in the industry. This is because there is very little our teams can't do when it comes to development, art, animation, and problem solving in the world of game development.
We Are A Culture of Craft
In order for a studio to provide AAA-quality work a studio needs AAA-quality people.
We put a lot of work into people. Not only are the SuperGenii  highly skilled, incredibly talented, and passionate about the craft of making games, but they also have that magic, undefinable quality that is integral to our studio's culture.
We love rock stars but have team members instead. Being a part of a team is at the core of the SuperGenii experience, and everyone in this studio adds value to that experience.
SuperGenius is a multi-faceted institution. It is a place of learning and a place of sharing. It is where team members are created and teams are strengthened. Here, artists, animators, programmers, producers, and technical artists spend their days perfecting their craft, learning the latest tools and techniques, and sharing them with their teammates. This is the culture of SuperGenius. It's awesome.
Our Technology

Technology moves fast, especially in our industry. Never in the history of games have there been so many advances in such a short amount of time. The developers we work with are almost always one step ahead and that means we have to stay one step ahead alongside them.
This is why we specialize in both Unity and Unreal Engine 4. These engines are the most widely used and most versatile in the industry. No matter what the platform – mobile, PC, console, handhelds, Virtual Reality and Augmented Reality – these are the engines that allow us to build the highest quality games in the most efficient way possible. We have invested much of our own time into pushing the boundaries of what these engines can do and the developers we work with reap these benefits every day.
Our experience has paid off greatly. In a short amount of time we have been able to help developers up their game (pun intended) by pushing their art and animation production into new territories while making their games look and play better than they ever thought possible. We have developed new and efficient ways to solve problems using the tools and techniques available for both Unity and UE4 that were not possible just a few short months ago.
We have spent years working with augmented reality technology and more recently, virtual reality. When the leaders in these technologies need the best team possible they turn to SuperGenius.
So many developers already rely on us to provide them with the best looking art and animation possible with the current technology. Our job is to be one step ahead when they come to us with the next generation of technology.
Love for SuperGenius
At the end of the day, the most important product we deliver is the sigh of relief from developers who know SuperGenius is on the job and everything will be taken care of. However, an audio clip of someone sighing in relief is much less effective (and somewhat more creepy) than a collection of quotes from developers who have worked with us for the very first time. So we combed through our emails and found these gems from some of our first projects with developers who have since become our most regular and beloved developer friends.
"I am glad we are able to work with you guys on Broken Age. It does feel like an extension of the team and not just a "kick it over the fence" contract gig. Your team is extremely talented and passionate about their work."
– Matt Hansen, Producer on Broken Age, Double fine Productions
"Your team does great work and is immensely professional about it."
– Robert Morgan, Technical Director, Back Beat Games
"I'm not sure I've had a better, smoother experience working with a pipeline like this…thanks for making a tight schedule, a shifting scope, and some heinously-late VO deliveries seem like a creative challenge, not a roadblock."
– Alex Smith, Activision Central
"After already seeing your scenes in our weekly review and the animation being so good, they totally forgot it was not our team."
– Bryan Roth, Producer on the Walking Dead, Telltale Games
"And it's amazing. you guys knocked this out of the park…into another park…on another planet. I'm going to show these at Standup tomorrow and blow everyone's minds. Thanks for making me look terrible by comparison!"
– Nate Horsefall, Animation Director on Marvel Super Hero Squad Online, Gazillion
"You guys knocked it out of the park with the designs — they look stellar. It's what we were hoping for, and then some. . .we're floored by the imagination of your artists."
-Kailtin Smith, Producer on unannounced project for Uken Games
"The animation was absolutely amazing! You really knocked everything out of the park and I couldn't be more happy to work alongside you!"
– David Gardner, Lead Animator on Massive Chalice, Double Fine Productions
"You are running a top notch company there. I have been so impressed by you guys. There is no way we could have done this game to this quality level without you."
– Rob Johnson, Lead Animator on Marvel Super Hero Squad Online, Amazing Society
"The effects are amazing. This is easily the best character you guys have created, and considering the bar you already set, that says something!"
– Michio Okamura, Art Director on Marvel Super Hero Squad Online, Gazillion